A collection of feminine looks with a vintage vibe that also incorporates a modern aesthetic, the Jill Stuart fashion line is a brand that I have loved for years.  So when Jill Stuart Beauty launched in the U.S. in the Fall of 2018, I was excited to try their products and recently, I did.  A few weeks ago, I visited the Jill Stuart Beauty showroom in Soho, NYC to discover the brand… It was everything and more than I expected. 🙂
The Showroom
So pretty. Walking into the showroom is like entering the makeup room of modern day fairytale princess. White walls and minimal furniture as well as mirrors and crystal detail set the stage for a product line that is packaged primarily in silver toned metallics and crystal design as well as embellishments such as Swarovski crystal and subtle floral patterns. The brand identity is strong and cohesive, and a beautiful complement to the fashion line of Jill Stuart.
The next 3 photos were taken on my phone in the showroom. Kind of obsessed with this hand mirror which is also very reasonably priced at $22.
A fluff to apply their loose blush, because powder should always go on with an applicator that resembles cotton candy! 😉 🙂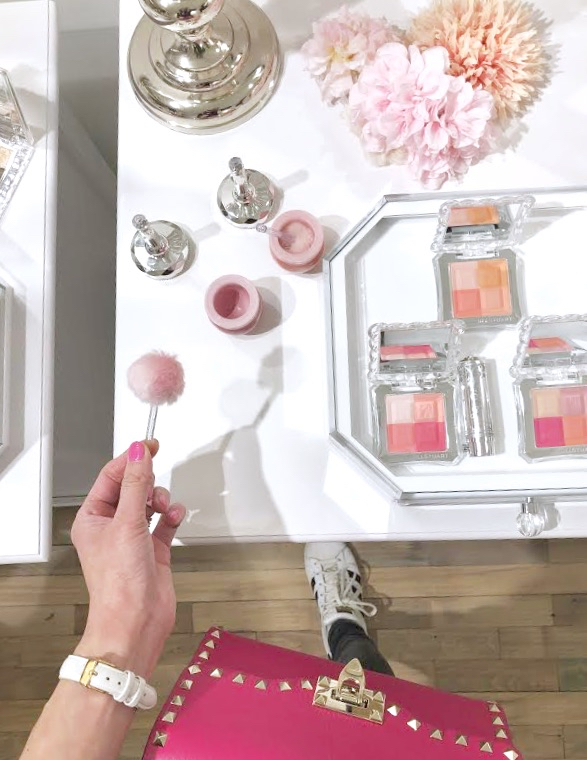 Also obsessed with the clean and light look of this vanity. Definitely inspiring me to update my vanity at home!
The Beauty Products
I received some Jill Stuart Beauty products courtesy of the brand during the showroom visit to try at home. Below are my favorites as well as review…
Jelly Eye Color – A lightweight gel eye shadow to add subtle sparkle and shimmer, this eye color glides on easily with fingers or with a brush, is blendable and doesn't crease. Best of all, it's moisturizing which is a necessity when the weather is cold and dry!
Lip Blossom – The packaging (see picture above as well) of this lipstick is so pretty that I liked it even before I tried it. Like a piece of jewelry, each lipstick also features a Swarovski crystal. Especially love the practical built-in mirror in the cap.
This is a sheer lipstick with buildable color. It glides on smoothly with just the right amount of shine. I tend to get chapped lips, especially in the winter, so this has been a great lipstick to moisturize my lips while adding a little color as well.
Loose Blush – Love this blush for a light, natural "glow-from-within" look. Comes with a puff stick (see pic below as well as larger photos above) to apply the loose powder which makes it so cute as well as practical for a girl/woman of any and every age. I'm also obsessed with the packaging and that the top can double for a ring holder. All about versatility, amirite?! 😉
Twinkle Glow Multi Stick – A highligher for lips, eyes and cheeks, love this to add subtle shimmer and glow to my brow bones and cheekbones. Similar to the Lip Blossom and Jelly Eye Color, this is very hydrating and blends easily on my skin. Another gorgeous piece of packaging, love the built-in mirror in the cap for 'on-the-go' application.
Note: The individual product photos above are courtesy of the brand.
Shop the post: