Started this post while prepping for my trip to Paris for PFW. And now that fashion "month" is over, I'm excited to do a quick fashion week SS20 recap, share my OOTD's and NYFW/PFW experiences, and everything else that happened in between. 😉
Since September and the fall season is "back to business as normal" for almost everyone, it was a busy month for me with the kids going back to school as well as back to back weeks of fashion related shows and events. Because of that, I only attend NY and Paris fashion weeks and only attend what I can during those weeks. However, I keep up to date by going online and on social media. There's so much going on!
Now, about the collections and NYFW events…
Events
Started off NYFW before it officially started with an event by B & H Photo. A pop-up video workshop featuring Tezza, Cole Hermann, and Madi Atkins, it was a great way to get inspired (and network) for the week while learning new editing techniques to incorporate into future content. An added bonus to the B & H event was their warm and friendly vibe. Just like their store and online site where I buy almost all of my photography equipment, they're welcoming and helpful. 🙂
Another fashion week event I attended was the WWD Style Dimension VIP Party. In partnership with Elite World Group, it was a "NYFW content playground celebrating the landscapes of style and beauty". It was a fun opportunity to unwind during fashion week while connecting with others in the industry.
Included in the gift bag was a coupon code for a free pair of shoes from Franco Sarto. Chose these and love them! Very comfortable and good to wear with jeans or a skirt. Love the pointy toe which gives it a more elegant look.
Collections
As far as the NYFW collections for SS20, it was good, really good. Overall, the collections were upbeat, positive and wearable. There were a lot of bright colors, relaxed silhouettes, and modern tailoring. I also saw a lot of volume as well as puffed sleeves. Some of my faves were from ALC, Brandon Maxwell (love his Texas prep inspo with classic tailoring and softer looks), Coach 1941, Cynthia Rowley, Lafayette 148, Marissa Webb, Veronica Beard and Victoria Hayes. The designers for SS20 referenced the '80's, early 90's and late 60's and I loved the direction!
Some highlight looks from shows that I attended and loved… :
Playful and fun, loved her use of color and print. The looks had volume yet were flowy and the entire collection was pretty and upbeat. Loved the positive vibe!
Launched in 2016, Victoria Hayes has dressed glamorous celebrities and artists such as Madonna, Lady Gaga, Andra Day, Cardi B, Alicia Keys, and Ariana Grande. This was her debut collection for NYFW and it was fantastic. The looks were feminine yet tough, lots of color and included beautiful hand-painted prints. One of my fave details were the Swarovski crystals which embellished sport silhouettes. Beautiful pieces!
My OOTD's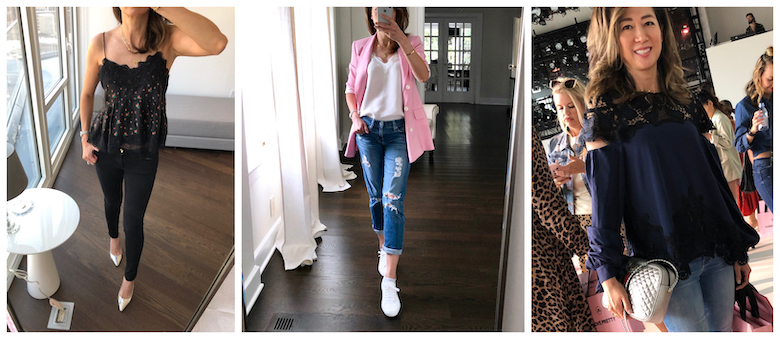 Wore these looks for the various shows/events during NYFW. Nothing out of the ordinary as I dress the way I like to dress, and a way that works with my style. So if you prefer a style similar to mine, hope these looks inspire you since these are all outfits that would work as everyday looks for various types of occasions. See below for the deets that are available (some of the pieces have been in my closet for a while so may not be able to link to it specifically!).
With every look, these necklaces from Gorjana:

And more… [to be continued]
Photo credit: Top photo by Jessie Alcheh