Hi, hope you're all having a great week! I'm still trying to figure out how it's already Thursday and March. On the upside, it's almost the weekend!!… So anyway, I just wanted to share some things that have recently entered my closet that I'm kind of obsessed with right now. In fact, if you know me you've probably seen me wear some of these pieces again, and again. They are on repeat, because… I love them!!
This storage pouch for makeup brushes, pencils and accessories is a must-have if you're a beauty junkie and like to travel. By Make Up For Ever, it breaks down into 2 sides so that all your brushes, etc. are easily accessible (not lying or rolling around on the counter) while you're getting ready. I would check its dimensions though if you're considering buying it. It is a little larger than I expected it to be, but that is now why I love it even more…it holds a lot!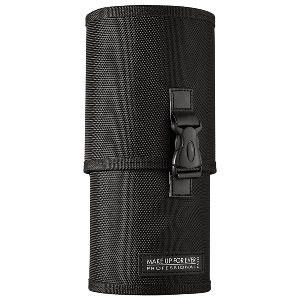 Have you heard of Rocksbox? It's a monthly subscription service for designer jewelry. You fill out a style survey, and create a wish list from a "rotating closet" of jewelry. They promptly send you a set (3 pieces) based on your preferences to borrow. Kind of like Netflix for jewelry, you can borrow for as long as you like and send back for a new set as much as you want. The beauty of it is that you have the option to buy what you love at "insider" prices. I recently received an offer to try it for 3 months, and I'm hooked. If you'd like to try it for 1 month free, use my code josephinacollectionxoxo at checkout until March 27th. And share your sets, I want to see what you get! Below is a pic from my instagram (@josephinacollection) feed of my first Rocksbox set.
Love this fringe top from Candela. As a sweatshirt style top, it is cozy and casual, but also edgy and on-trend with its raw edges and fringe detail on the sleeves. Perfect look for this season and into the Fall/Winter.
This necklace from
Gorjana
works with almost any outfit. I bought it awhile ago and find that I'm always reaching for it, especially when I'm in a rush! As the trend toward delicate necklaces is becoming more and more popular, this one is definitely an accessory closet staple.
Always on the lookout for great denim, love these jeans from
Citizens for Humanity
for a great casual, weekend look. They are not overly distressed so they can be easily dressed up as well.
Simple yet bold, love to wear this belt with a minimal look. And…I have this thing for shiny, metallic accessories…
Last but not least, these gorgeous rose gold, drusy studs and gold ear jackets courtesy of Kendra Scott. A perfect combination of classic and edgy, I love how you can mix and match the studs and ear jackets! Kind of obsessed, can you tell?
Shop the post:

Have a great finish to your week!! xo