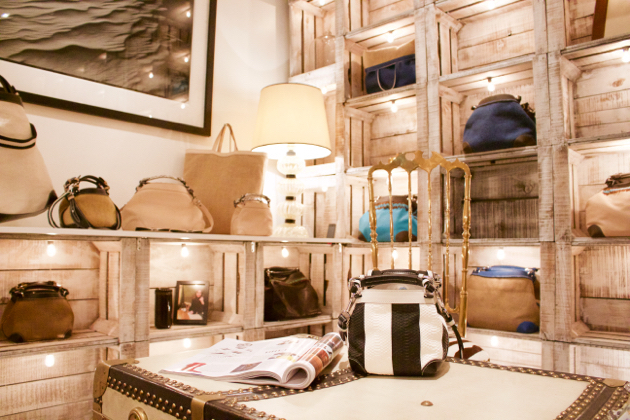 Last month during Paris FashionWeek, I fell in love… with Caroline De Marchi bags. Prior to my visit, I had seen(and admired) their Ig account and website (carolinedemarchi.com), but beyond that I was not very familiar with the brand and had never seen any of their bags or accessories in person. Since I am always excited to discover amazing new products, I was thrilled to get an invitation to preview their Spring/Summer 2016 line.
A new style for SS16: the 'Luca' bag*
The Caroline De Marchi showroom/boutique is located on the famously luxurious and bustling rue Saint-Honoré in Paris. I headed over there from my hotel in St. Germain des Prés, and was pleasantly surprised to face these doors, and not a traditional storefront or office building, as I stepped out of the car. Since I have only stayed in hotels and travelled as a tourist during previous visits to Paris, I've always been curious to step through any of the gorgeous doors that you see all over the city. So exciting…
Walking into the courtyard that leads to the showroom felt like gaining exclusive access into the Parisian lifestyle. It was a perfect pathway and introduction to the personality and soul of the brand.
In the showroom, I was warmly welcomed by Capucine Lebrun, Caroline's daughter as well as her Manager of Business Development and Luca Colosimo, Assistant Designer. An inviting and intimate space, it felt like a visit at a friend's place, a chic Parisian friend's place. 🙂
Established in 2008 with the creation of the Cubo – the signature bag style of the brand, Caroline De Marchi is a line of luxury bags handmade in Italy. Inspired by her nomadic lifestyle and her love of the world, Caroline creates a collection of gorgeous, fashion-forward bags that incorporate her French chic with exquisite Italian craftsmanship and design.
Online and through photos the bags are beautiful, but in person they exceeded my expectations. From the use of the most luxurious materials like the softest calf leather to every detail thought out and accounted for, these bags made my heart skip a beat. Caroline De Marchi bags are the epitome of sophistication and understated elegance.
Inside the showroom featuring the full SS '16 collection:
Inspired by the Siwa Oasis in Egypt, raw materials and warm, bold colors are used in every SS'16 bag. Designed by Caroline with the assistance and collaborative effort of Luca Colosimo, each bag incorporates different details and color combinations that makes every one unique and special.
I loved all the bags I saw but if I had to choose my faves, the bags below would be my top picks.
From the SS16 Lookbook*
1. Luca (see it on my
instagram here
) in calf leather and python trim, 2. Cubo (XL) in raw linen and calf leather, 3. Luca calf leather and snakeskin trim, 4. Cubo in yellow linen and calf leather, 5. Cubo micro in calf leather and snakeskin, 6. Cubo in calf leather with hand embroidered pearl trim, 7. Bali in calf leather and snakeskin, 8. Cubo in taupe linen, calf leather and raw cotton trimming
The metallic Cubo below is from the current season, but I had to include a pic of it. Stunning.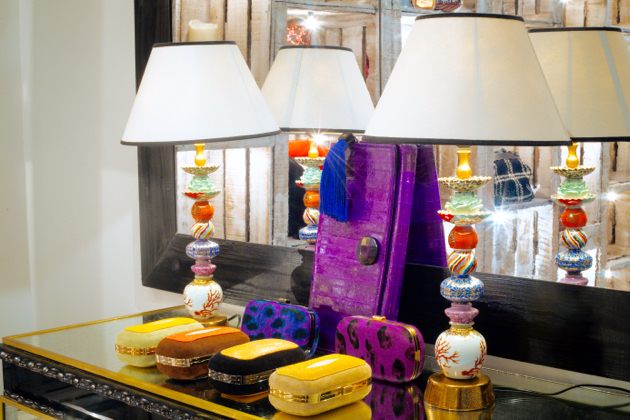 The showroom space designed by Caroline De Marchi herself complements the exquisite design and style of the accessories.*
View of the clear blue sky as I left the courtyard and exited this serene and cozy haven in the midst of the busy Parisian streets and Fashion Week.
Jusqu'à ce que la prochaine fois (Until the next time)…
Note: Images marked with '*' in the caption are courtesy of Caroline De Marchi. All other photos were taken by me.