Hi, Everyone! So just wanted to share my current hair product essentials which have been a game changer for styling my own hair. My hair is naturally pin-straight (not in a good way), thick and heavy. Because of this, it does not easily hold a style without some major intervention.
If you knew me from childhood, you'd know that I struggled with my hair from the beginning. I've gone from forcing lift and bend with a crazy perm, slicking it back with the strongest holding gel out there to giving up altogether and doing nothing to it. Needless to say, none of these trials/attempts were very flattering on me. ? 
The past few years, probably due to blogging, I've been really trying to figure out a way to style my hair so that I can go to an event and actually look put-together without always having rely on a hair stylist. Anything to save money on those new shoes or bag, right?! ?
So what's worked so far, is using tools like hot rollers and a curling iron (see a previous post on them here). But I've also had to incorporate products to help create and hold the style. Since there are so many different types of products out there, I'm alway experimenting with them. The dry shampoo, volumizing powder and anti-humidity spray shown below are my three must-haves right now. I don't use these every day, but rely on them when I want my hair to look good with a style that lasts.
Hair Product Essentials:
R + Co Dry Shampoo – I've tried many different dry shampoos and this one is my fave. Does its job and doesn't leave a powdery mess on my shoulders after applying like some of the other ones have.
Oribe Volume Powder – This is magic. Gives instant volume and hold that lasts. You have to be careful though. The powder is released silently and is super strong so if you're not paying attention, you'll end up with helmet hair. Remember, a little goes a long way. You've been warned…
Oribe Anti-Humidity Spray – Just a little extra protection to hold my style. Love it, because it makes my hair smell good too!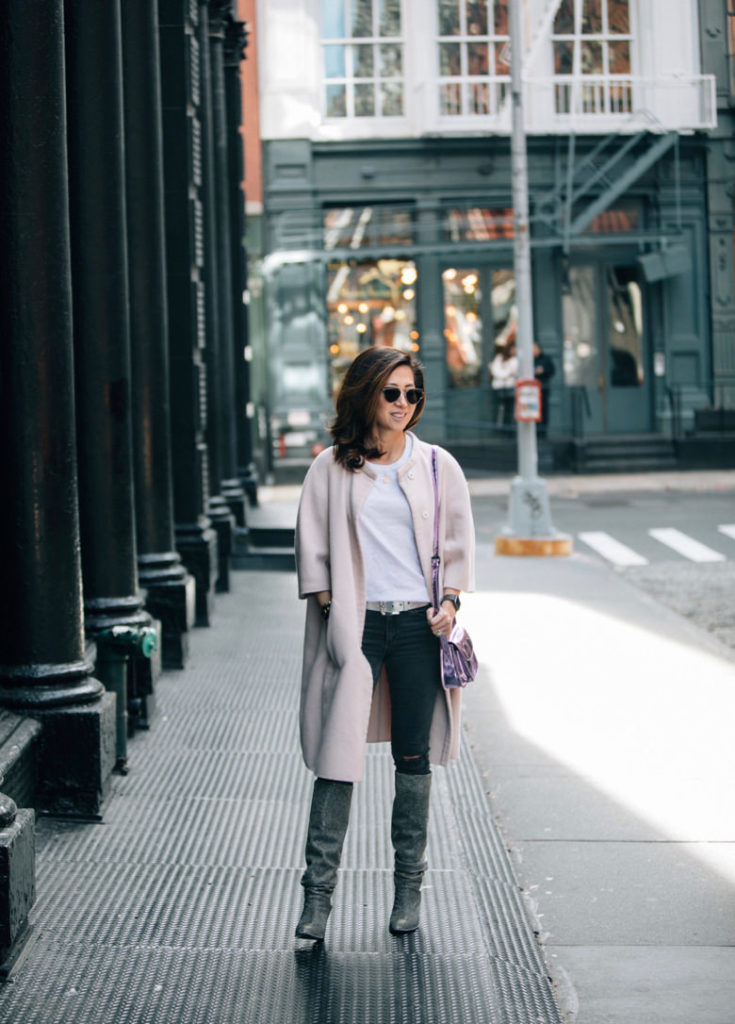 Outfit Deets:
So under normal spring-like weather conditions I probably wouldn't post this outfit with the coat, but given the nonstop cold weather we've had since winter "ended"… here it is. Good news is that all the pieces will still look great and fashion forward next fall/winter, and the accessories, of course, work year round.
Coat – Jil Sander (similar pink one here,  here and here)
Tee – Madewell
Jeans – Mcguire
Bag (received as a gift courtesy of the brand) – Deux Lux
Sunnies – Gentle Monster (similar here)
Belt – Neiman Marcus (similar here)
Cuff – Balenciaga
Boots – Stuart Weitzman
Necklace (received as a gift courtesy of the brand) – Jet Set Candy
Love Jet Set Candy for their collection of travel themed jewelry pieces. Would make a great graduation or Mother Day gift! See my previous post on this brand here.
Shop the post:


Photo credit:
Lydia Hudgens