Continuing on with my recap of PFW, Day 2 ended gloriously with the Andrew Gn show. A collection that was both sophisticated and youthfully rebellious, Andrew Gn for Spring/Summer 2017 was stunning, and another testament of the designer's reputation for exquisite craftsmanship, innovation and a creator of classically beautiful clothing.
The show was titled (per the show notes) "When 'Les Merveilleuses' of the French Directoire Meet 20th Century Punk." The French Directoire period was a time at the end of the French Revolution (1790's) when Les Incroyables (the Unbelievables-men) and Les Merveilleuses (the Marvelous Ones-women), young political people, made a statement with their extraordinary and over-the-top fashion. Similarly, the eighties punk movement emerged from a rebellion to a more conservative political environment. Andrew Gn's collection for SS'17 was inspired by an intersection of these two rebellious periods in fashion while maintaining his signature beautifully ladylike looks.
The top photo and the ones below are my fave looks from the Andrew Gn show. Go to their site here to view the full collection.
New to Andrew Gn for this season was the use of denim. Not as pants, but as other clothing pieces like a skirt or jacket. The denim was expertly cut, detailed and deconstructed to create looks that were luxurious and feminine as well as edgy and fashion-forward.
A fan of edgier fashion, I loved the punk influence such as the spike detail, metal rivets, chokers and raw-edge hems. But the features that blew me away were the floral embroideries(see the last 4 photos) and the seductive yet feminine silhouettes(all the photos)…gorgeous!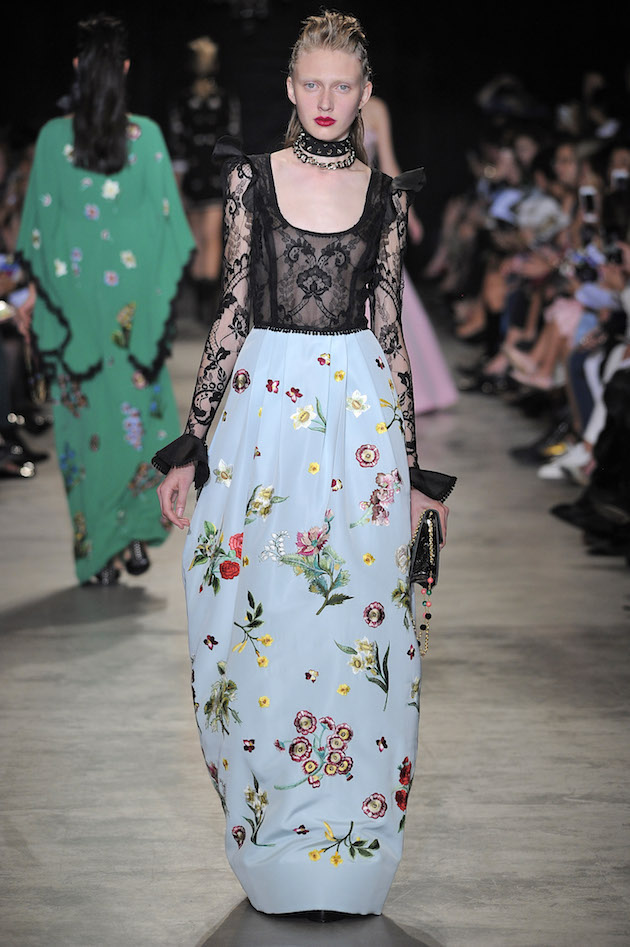 Photo credit: Courtesy of Andrew Gn