A classic look that also has had upsurges in popularity at different times, a pleated skirt is especially on trend this season and into the Fall. For a more fashion-forward statement, the pleated skirt is updated with unexpected details like alternating stripes of color, non-traditional fabrications in metallic and satin, and asymmetric hemlines.
Feminine and flirty, love the pleated skirt for its whimsy as well as the nostalgia it brings of my childhood outfits. Below are my faves right now. Dress them up with heels and a blouse or wear them more flirty with a crop top. Want to add a little edge as well as casual chic? Put on sneakers, add some metallic or leather and a t-shirt. Voilà!
Also love these pleated dresses by
Halston Heritage
. The
one on the left
is so elegant, and would be appropriate for almost any occasion year-round. The
orange dress
is flirty and feminine, and a gorgeous color to wear to a summer wedding!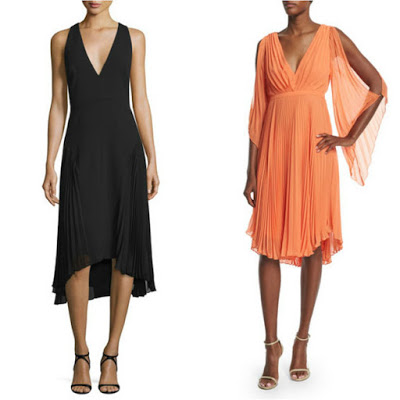 Shop the post:

Have a great week!