This Spring and into the Fall there's an emphasis, or rather a 'showing off' of the ankle. Accordingly, pants are being cuffed, cropped, or re-styled(culottes, anyone?). And can I tell you that I'm obsessed with this trend?! Of course as a shoe lover, I love any trend that highlights and showcases the shoes of an outfit. Also, showing off the ankle can add some femininity and subtle sexiness to a more masculine looking pant, especially with sleek pumps or sandals. One of my favorite ways of wearing a cropped, ankle-revealing pant is a rolled-up, slouchy boyfriend jean like these by
Frame Denim
. The lighter color is perfect for warmer weather and any distressing/fading is subtle enough so that these pants can be worn in more situations.
These photos were taken last week when I was in warm and sunny Los Angeles (sigh!). Because I was doing a lot of walking, I wore a flatter and wider heel. Otherwise, I'd wear this outfit with stiletto pumps or a more delicate sandal.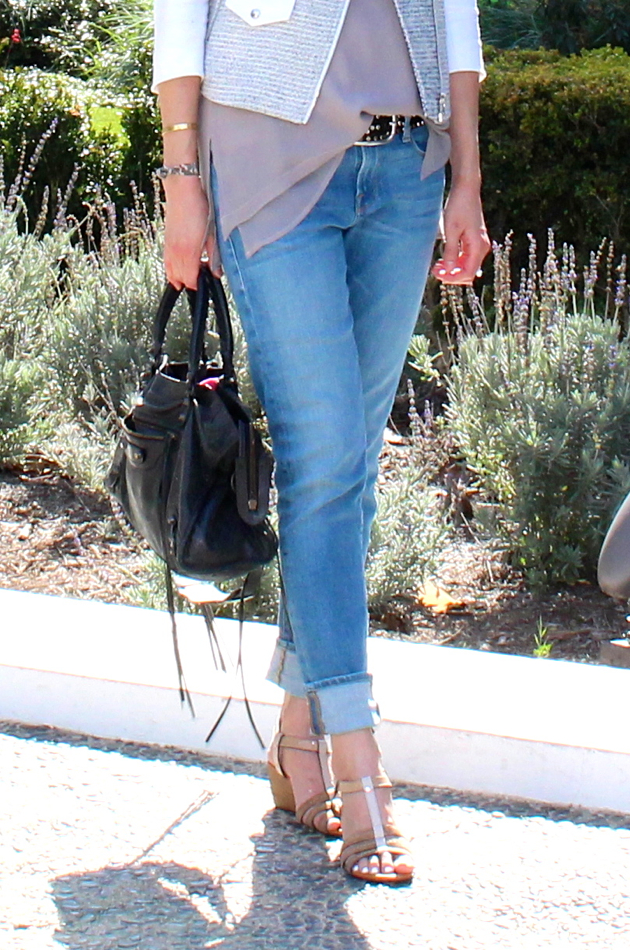 It was snowing when I started writing this post… I have to say that I'm still in complete denial that it is cold winter weather here in New York. Miss you L.A.!!
outfit details:
top: Black Hawk
bag:
Balenciaga(
find similar
here)
Close-up shot of the Maya Brenner bicoastal necklace: