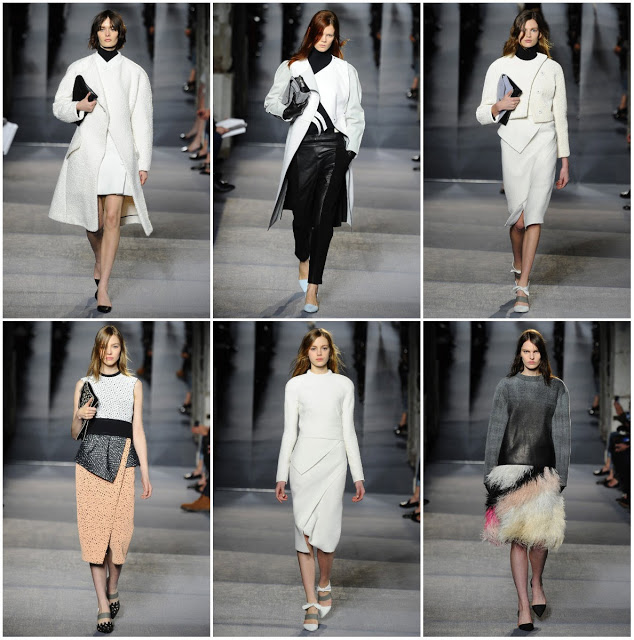 It's usually at this point in the summer that I start to obsess about Fall fashion. Although the more casual and less layered looks for summer(or warm weather) can be refreshing and easy, I just can't wait to dress up a bit more, add some layers, and have a little more fun with my looks without feeling like I'm melting.

So…fast forward to Fall fashion.
Proenza Schouler's collection
for
Fall 2013
is one of my favorites of the season. Always known for their sophistication and intensely creative development of unique fabrics,
Proenza Schouler
put together a collection this season that was even more sophisticated, if that's possible, than in previous seasons. With a color palette that was predominantly black, white, and gray; the looks were understated yet strong. Overall, the collection was more feminine than usual with many pieces clearly reminiscent of mid-century silhouettes such as cropped jackets with rounded shoulders and figure-defining pencil skirts. But what was particularly remarkable about the collection was the unexpected detail and texture of the fabrics. For example, there was a dress of vertical chain embroidery and tweed bouclés created from black and white strips of woven leather.
Above are some of my favorite looks from Proenza Schouler's Fall '13 collection. Especially love the leather sweater and ostrich skirt in the last look on bottom right for its whimsy and how it complemented some of the more serious looks of the Proenza Schouler woman.